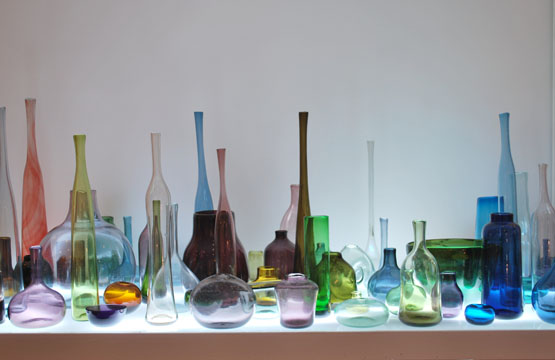 Claude Morin is the pioneer of the glass revival in France in the early 1970's. Originating from Dieuefit in the Drome region of France, he worked for his family textile business until he decided to set out on the adventure of glass blowing. At this time, other than large manufacturers and their industrial production, private glass studios did not exist in France. Only some artisan glassworkers succeded, such as the company Biot, directed by Eloi Monod who helped Morin in his new endeavor and would become a close friend and crucial supporter.
Morin opened his glass studio in Dieulefit in the begining of the year 1970. He built his own ovens and started glass blowing, helped by his wife and by his friend Frank Girard. They officially opened "Le Pontil" glass studio on the 27th of June.
The pitchers, tumblers, vases and glass "stones" created from this year on were colored in the mass of the glass. Their tints which go from amethyst to moss green and topaz to amber in between are delicately marbled by the color's residue that stayed in the melting pot and fade subltly from tone to tone.
A sense of harmony is expressed by the strict and well balanced lines. Their first exposition at the gallery Club de Genève in September of 1970 was a great success.
During that decade many expositions followed, international and always more prestigious than the last. In 1978 in France, motivated by the necessity of giving French glass making a wider audience amoung the public, Morin founded " l'Association pour le Développement de la Création Artistique en Verre" (the Association for the Development of Artistic Creation in Glass"). Through his influence Dieulefit would become one of the most creative and innovative studios of his time.