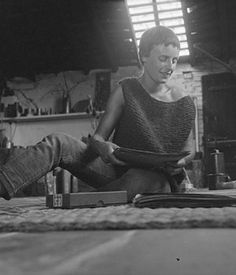 Elisabeth Joulia (1925 - 2003) is a french ceramist. 
Between 1945 and 1948 she studies at the Beaux Arts school in Clermont Ferrand and lean fresco at the Paris Beaux Arts and ceramic at the Bourges Beaux Arts. She has Jean Lerat as professor who initiate her at this technic. It is at the Lerat's spouses house that she executed his first works and discover cooking with wood. 
She arrived at La Borne in 1949 but she is waiting 3 years before creating his own oven. She was attracted by abstract creations and architectural dimension. She combines shaping and potter's wheel. She produce very few functional ceramic and is more into modern sculpture. 
In 1956 Gallery La Roue in Paris dedicate a personnal exhibition to Joulia and in 1958 at gallery Sornay in Lyon. In 1981 she participate at the big exhibition on french contemporary ceramic at the Musée des Arts Décoratifs. 
Sold items